Caramel is Back!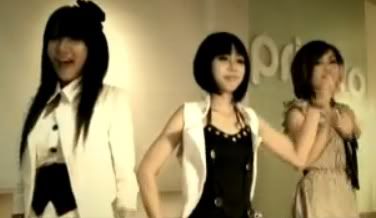 We were first introduced to Caramel two months ago with their debut single, "Ooh!". The trio is now back with another track called "Yark Hai Hoo Jai". Since then the girls appearance has changed dramatically. It took me awhile to figure who was who but I am loving the new look. The song is super catchy, "Shoo-Wee-Doo-Wa-Pah!". To be honest I haven't really found any information about these girls. I've looked every where and can't find a Hi5 profile nor a Facebook page.
The video takes place in a fast-food restaurant. The girls play the role of the employers and they are crushing on a guy who happened to come into the restaurant.
I was getting hungry watching them shove the menu in our faces.
Now if you are familiar with the boy band V.I.P then you will notice that the guy is one of their members! This might be a bit mean but his nose reminds me of Michael Jackson's nose.
While watching this I couldn't help but think back at Temple Guy's music video for "Hoo Bor?". Same story but a gender swap.
Valentine Music has just been on a roll! Music video releases after another. Come on Indee Records! You are behind this year. 2010 has been dominated by Valentine Music and KPY Entertainment.
Screenshots:
Caramel - Yark Hai Hoo Jai
Temple Guys - Hoo Bor
The storyline is a bit similar to this music video.