Dozo's New Single
Rock band Dozo caught us with a surprise earlier this year with their single "Khao Jai" and it became an instant hit. They're back with another single and it is titled "Pieng Lom Park". Dozo's new song placed third place on this weeks Music Boom chart!
Personally I don't think it lives up to "Khao Jai" as the song is a bit so-so, but it isn't bad at all. If you are into rock then you probably will enjoy this though. I guess I preferred the other song more because it gave an R&B feel to it, which I am a big fan of. The story of the song is about a couple whose love seems so perfect and nothing could go wrong. Things change as the guy finds out the girl has fallen in love with another guy. Now he is left heart broken and wishes all this was just merely a dream.
The music video they shot for this music video was nailed. It was crystal clear. I believe the person who shot this also did the music video for L-Zone's "Check Bill" and Chilipase's "Khon Ao Tae Jai". The actors did a great job. It was better than most of the other music videos I've seen that looked a bit forced. The story performed in this video ties perfect with the song.
Screenshots: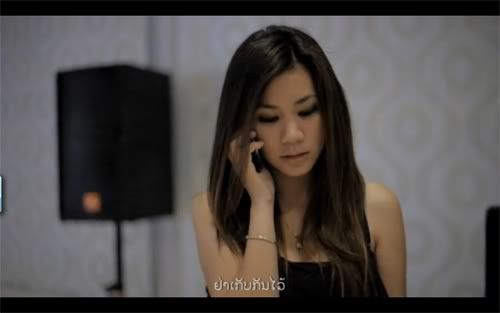 Lyrics:
JA MEE TAE JAO KHON DIEO NAI HUA JAI
DAI FUNG KUNG DAI NAI JAI MUN SOOD JA DTEUN DTUN
LAE BORK WA HUK TEE MEE JA BOR PIEN PUN
TERNG MAEN KEUN WUN JA PAN BPAI NAN THAO DAI


(#) TAE KWAM PEN JING NAI WUN NEE
KHON DEE YARK BORK WA SIA JAI
YARK JA PIT DTA AO WAI
LAE KID WA MUN PEN PIENG FUN
MEUA KHON TEE BORK WA HUK
KHON TEE BORK WA HUANG NGAI


PEN YUNG TORNG PAI
YOO ORM GORT KHAO KHON NUN
GOR LERM JA HOO NAI KWAM SIA JAI
WA MUN TORLAMAN PIENG DAI
TEE TORN PHOB MUN
TEE BORK WA HUK JA BOR PIEN PUN
GOR LEUAY KHAO JAI MUN
LERK SERNG NAI TON NEE
KONG PIENG LOM PARK TAO NUN


TA HARK WA KHAO MA TAEN TEE HUA JAI
YA GAEB GUN WAI
HAI TORLAMAN EEK LEUAY
YA BORK WA HUK
HAI MUN TORNG SAM EEK LEUAY
YA BORK WA MEUN KEUAY
HUK MUN BOR PEN KWAM JING


Repeat (#)
Dozo - Pieng Lom Park