A'pacts Calls It Quits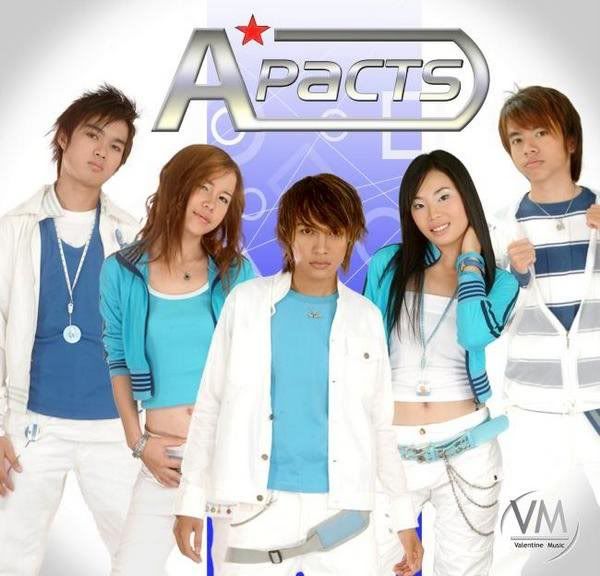 Hey everyone! So, there have been many questions as to what A'PactS has been up to lately... We have decided to split up as a group and just do our own individual thing. It was a mutual decison among all of us. We hope that our fans can understand and we're sorry if we disappointed anybody. Our fans mean alot to us and we hope that you guys will accept and support each of us in our other projects. Thank you guys for always being there and cheering us on! We appreciate it so much!





Love always,





Tar, Toun, B, Muna, and Sam.
It's been made official by A'pacts that they are disbanding. A'pacts were one of the many first Lao pop groups to make their debut in the early stages of Lao music. They consisted of five members. The original members were Tar, Toun, Sam, B, and Vj Lady, which then Lady left and was replaced with Mouna. Hearing them disband was quite sad news for me as they were one of my favorite groups.
Two members that really stood out for me were Tar and Toun. Both had great vocals. Tar could hit notes that I had never heard any other Lao singers hit. Toun carried most of the chorus with her sweet and edgy voice.
I wanted to make a tribute for this pioneer group. Lets take a look at their journey from the start to the end.
"Hua Ngoo"
First lets take a look at one of the first songs they debuted with. This track is "Hua Ngoo". The dancing I admit was very amateur but the song was so catchy! If you notice this was when Lady was a member of the band. Every one looked so young in this. Lady especially caught my eye in this. She has so much charisma.
"Phor"
This song is called Phor and the guys are the only ones singing. It's a slow song but has a nice melody. I loved that the audience were singing along and holding heart balloons!
Lady's Solo
Next is a solo from Lady called "Khor Wela Tum Jai". I found both the music video and live concert versions.
"Khao Jai Pit (Oh La La)"
This time we say good bye to Lady and welcome Mouna, which she didn't have a singing part in this but had a short appearance. They also made a switch to Indee Records. The song is called Khao Jai Pit (Oh La La) which means "misunderstand" in English. This song is one of my favorites and such an up-beat song. I loved Toun's vocals in this one. Their dancing also improved a lot.
"Apone Lao Sao Ngarm"
Apone Lao was a beauty contest in Lao but is not called Miss Laos. Tar sang the official theme song for this contest. He showed us what he could do with his vocals. This song was also re-sung by Cells, Idolz, Souk, and Temply Guys but they didn't sing it as great as Tar did.
"Tao Dai Gor Bor Ao"
Now I wrap it up with one of the most saddest songs released in Laos. This track is called "Tao Dai Gor Bor Ao". Hearing this for the first time it blew my mind away. I spent a couple of weeks listening to this on repeat. It's so emotional and I could feel his pain. I wish they had made a better music video for this. I bet it would have been a very sad music video.
Lastly I want to wish for that all members great luck with what they are going to pursue in the future. I hope they continue making music.